So, somehow I just deleted the post that took me forever to come up with (UGH), so here is my 2nd attempt.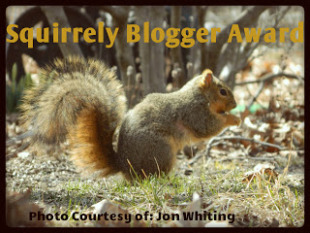 I was recently nominated for The Squirrely Award, which is awesome, despite the fact that squirrels are absolutely terrifying. Michelle over at
MaMade Creations
was the one who nominated me. Her blog is awesome; you should definitely go check it out!
The premise of this award is that you have to write 7 - 10 random facts about yourself. At first, I had a really hard time coming up with stuff, but as I started to write, I really enjoyed it. I love reading random facts about people, so this is totally up my alley! Hope you enjoy reading it as much as I enjoyed writing it.
1. I am totally OCD about raw meat. Whenever I cook, I overly sanitize every single thing. Soap dispenser, sink, counters, dishwasher...everything. Raw chicken is the worst. I was a vegetarian for a few years in college because touching raw meat grossed me out so much.
2. I may or may not have a slight obsession with buying bows for Moose. I say that the bows are a necessity, Josh says that I have a problem. Your call...there are 79 hanging up and we have another basket full on the dresser...
Hi, my name is Becky and I have an addiction.
3. I am actually very shy. People who know me find this really hard to believe. I have worked hard to overcome my shyness, but it is still who I am. For that reason, I am a much better writer than I am a speaker, even in social situations (which make me nervous).
4. I am incredibly claustrophobic. I always have been, but it was made worse when I got trapped in an elevator in NYC 11 years ago. Since then, I try to avoid elevators at all costs, which has become increasingly difficult as I always have Moose's stroller with me.
5. Josh and I watch a lot of TV. It is our way of vegging out once we have put Moose to bed, packed lunches for the next day, and cleaned up from dinner. Both the amount of time spent in front of the TV and the quality of TV watched have increased since we got HBO and Showtime. Their shows are amazing!
6. Before bed every night, I put the monitor to my ear and spend a few minutes listening to Moose breathe. The sound is so comforting to me.
7. Josh and I went to high school together, but didn't start dating until grad school. Our parents are good friends (and lived in the same neighborhood at the time), which is how we met. We like to say that it was an arranged marriage.
Josh and I on our honeymoon. We were so young and carefree!
8. Combining #5 and #7, our seven year wedding anniversary is tomorrow (September 29th). It is also the season three premiere of Homeland. Not sure which we are more excited about. ;)
9. Speaking of squirrels, Ohio University (my Alma mater) is said to have some of the smartest squirrels in the world (sounds like an oxymoron). The squirrels at OU came from Harvard and were intentionally introduced to the campus in 1908. While I still don't like squirrels, I LOVE OU.
College graduation from OU in 2004. I was just a baby!
Although you can't see any squirrels behind me, they are there!
And that's all from me, but now I get to pass this award on to 4 more awesome bloggers!
My friend Courtney at
Willis and We
who writes about a variety of things and whose energy never ceases to amaze me!
I MayB
, which is one of the funniest blogs that I read. This girl is hilarious!
Leslie at
Violet Imperfection
who is much more of an experienced blogger than I am, but I wanted to recommend her because I love reading everything that she writes!
Finally, Holly at
Little Baby Butt
, whose blog not only has an awesome name (baby butts are so sweet), but has great Mommy content.
Enjoy, ladies!